2001 BMW M5 arriving in Hong Kong, China

2011 BMw 1M (Akrapovic exhaust, BBS RID wheels, Brembo BBK, Vorsteiner Aerokit, KW V3 coilover) in Jakarta, Indonesia
Automotive Specialist Performance Group LLC offers international shipment and sourcing to all its clients. With an ever increasing global society, more demand has been placed on all businesses from overseas clients and suppliers. By developing relationships with many international suppliers, Automotive Specialist has the ability to source almost any high end aftermarket product for our clients. As a recognized United States's Transportation and Security Administration known shipper, Automotive Specialist is able to work with numerous established international air freight carriers and has the ability to transport parts and fully modified vehicles anywhere in the world in an expedited manner. This allows us to continue offering our international clients all of the premium aftermarket tuning brands without having to worry about buying a replica brand, or waiting months for arrival via a cargo container. The end result is a vehicle that not only stands apart from others in its region, but also a client who realizes they have received only the finest products and service at a competitive price. Automotive Specialist realizes the importance of the international community and is continually working on improving and expanding our international presence. Please contact us for exact pricing quotes and shipment methods to your country if interested.
Shipment of customized Ducati parts and personal goods en route to Singapore
Automotive Specialist Performance Group LLC is more than just automobile parts. While we specialize in the shipment of automobiles and their related equipment, Automotive Specialist also offers shipping services for any item one may wish to transport. Being a recognized shipper for the United States Transportation and Security Administration affords us the luxury of being authorized to ship any possible shipments. Whether it be automobiles, home furnishings, women's fashion accessories, or used personal goods, Automotive Specialist is capable and willing to transport any legal goods. Please contact us to obtain a quote for your shipment.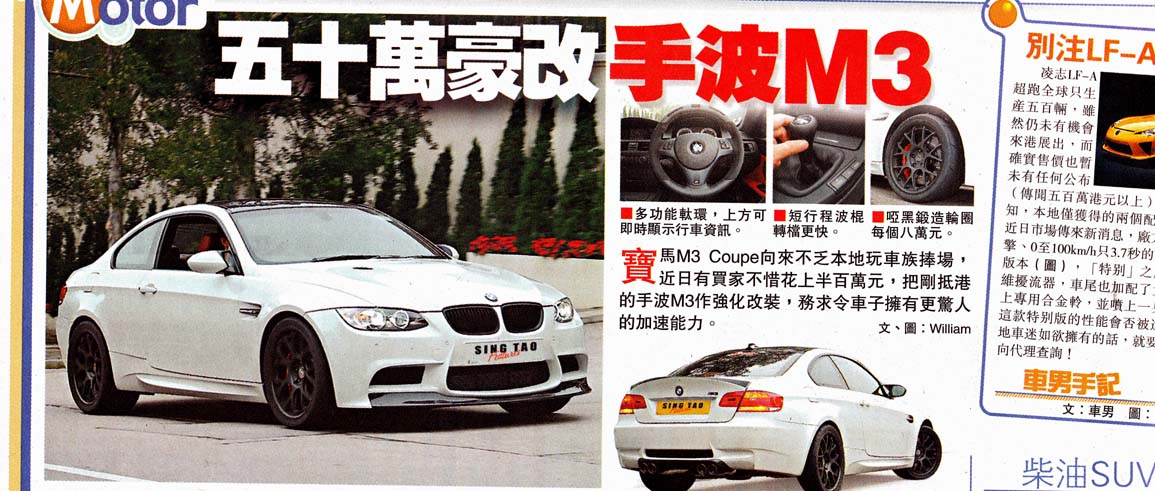 2010 BMW M3 (modified by Automotive Specialist) featured in Hong Kong Car Magazine "Motor"
Automotive Specialist is pleased to have had numerous of its international client's vehicles featured in automobile magazines in their respective country. By supplying rare aftermarket modifications that are very sought after, we allow our client's vehicles to obtain respect within their respective car community. We strive for only the best in terms of our product deliverable, and believe these cars exemplify our core mission statement of "Precision, Performance, Prestige." Automotive Specialist is also pleased to support many international car clubs; including the Hong Kong BMW Owner's Club, and Indonesian M Owner's Club. Automotive Specialist is honored to have the opportunity to offer these accolades to our clients and look forward to producing more in the future.
© 2013 Automotive Specialist Performance Group LLC, All Rights Reserved, 129 Scribner Road - Tyngsborough, MA 01879 - United States of America - +1.978.649.7141