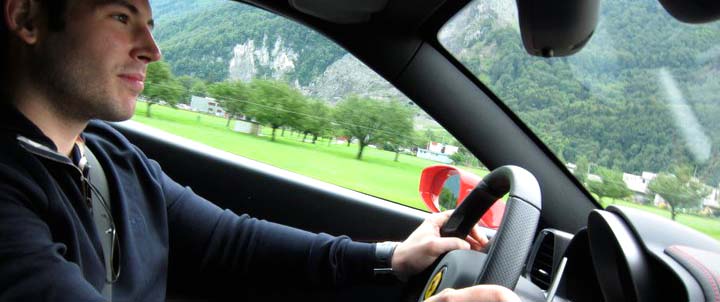 Carleton piloting a Ferrari 458 Italia in the Swiss Alps
Timothy Carleton Matson, (Carleton), joined Automotive Specialist in 2003 as an aftermarket performance sector and detailing specialist. A graduate of Bentley College in 2004, Carleton has utilized current business techniques to increase both revenues and clientele at a yearly growth rate of over 20% since. Now as President of Automotive Specialist, he wishes to continue consistent growth in all facets of the business with a stronger emphasis on Automotive Specialist's international presence while maintaining a loyal clientele base within New England.
Born in 1981, Carleton has been brought up around high performance vehicles since a young age with both parents being heavily involved with the AHRA and BMWCCA. This has been evident in his enthusiasm of the automobile throughout his life. An avid track enthusiast, Carleton has had the pleasure to drive some of the world's most demanding race tracks and attempts to utilize his experiences into the business's offerings. Carleton currently drives a heavily modified 2001 BMW M5 with numerous aftermarket modifications. While he states nothing more is going into his M5, he definitely has his eyes fixated upon the 997 Porsche GT3.
While the business takes up a large percentage of his time, Carleton also enjoys travel, offshore powerboats, investment trading, and many sports including the NFL, NHL, and of course automobile racing. While, typically located in the Boston area, Carleton does travel frequently to meet with both clients and business partners around the globe. For a more updated look at Carleton's location, please feel free to check his facebook page under "Carleton Matson."

Carleton with Valentino Balboni at a Lamborghini event in NYC
---
© 2013 Automotive Specialist Performance Group LLC, All Rights Reserved, 129 Scribner Road - Tyngsborough, MA 01879 - United States of America - +1.978.649.7141